This Sunday is the day where Hollywood acknowledge some pretty great films and Bohemian Rhapsody. Will they get the right winner? Maybe. But I'm not going to comment on their choices. Instead I will hand out the 2019 ASBO awards for great films. From this list, you will hopefully get a good idea of which films to watch and avoid. There are plenty of good ones to see, yet a limited time to see them in.
I will use the Oscar nominations as a general framework, but throw in some of my own suggestions.
Now, why am I calling them the ASBO awards when in the UK that means Anti-Social Behaviour Order. Well, my family calls our cat Oscar, even though his birth certificate name is ASBO. Therefore, to restore the balance of the world it is only necessary. So, lets begin:
Best Picture Nominations
I am using the Oscars Best Picture Nominations as an opening framework, but will throw in honourable mentions as appropriate.
Bohemian Rhapsody was not a very good film. It's been a month since I watched it and I can remember my disappointment. The biopic about Freddie Mercury's life felt disappointing. The story wasn't paced brilliantly and really, you were just sat there waiting for the next queen song. Ultimately, the film's big moment in the live aid scene has far too many camera cuts and the CGI audience will not stand the test of time. This was a real shame as I really wanted this film to be good. Alas, it wasn't. (3/20)
The other eyebrow raiser was Black Panther. You either like it or you don't. I don't like marvel films, I didn't like black panther. The story about superhero T'Challa trying to protect Wakanda from Killmonger just fails to get going and ultimately ends in Marvel style combat. This story really could've been more if they focused on Killmonger and didn't have Martin Freeman trying an American accent. Visually it was a wonderful film, but after that it struggles to stand out against other mundane Marvel films. (6/20)
After this point, I like the films and think they all deserved to be nominated.
Blackkklansman was a film about how a young black policeman infiltrates the KKK. While being tense at times, this film was pretty amusing at others. The two lead characters were both people you could get behind with the confident Ron Stallworth and the timid Flip working together very well. While based on a true story, this is definitely dramatised with some characters feeling like parodies. Nonetheless, it's still a film worth watching that lots of people will enjoy. (14/20)
British sweetheart Olivia Coleman takes the main role in The Favourite. In this film, two women played by Emma Stone and Rachel Weisz battle to be Queen Anne's favourite and gain lots of power and wealth. Watching these two's personalities change over time in desperation kept the movie going along at a decent pace. Personally, I'm not a sucker for cinema comedy and didn't enjoy this film as much as others will, yet it still was amusing at times and the actresses play off each other very well. If the trailer for this film appeals to you, then you will probably like the rest of it. (14/20)
After watching Green Book I was torn. The story wasn't particularly great and there are lots of issues around the film. But the chemistry between Italian-american driver Tony Lip and black pianist Doctor Don Shirley just kept you engaged rooting for these people. The film is about Tony driving Don on a tour of the deep south in the 1960s. Green Book is the name of the book which shows where black people can eat and sleep in these states. The film focuses on race and identity issues as Don Shirely plays piano to the elites but becomes a second class citizen in an instant when he's not playing. Tony starts the film off as a racist stupid man.. Don explores his identity while Tony becomes more liberal and refined. Many people will enjoy this film (and I think it will win the Oscars Best Picture). (14/20)
A Star is Born is the third adaptation of the usual zero to pop star icon story. Bradley Cooper plays Jackson Maine, an alcoholic musiciam whose career is declining, but he gives a chance to Ali (Lady Gaga) who becomes a pop sensation. They fall in love and its a sweet but sad story as Jackson's alcoholism and career decline catches up with him. This film also has that song which will stick in your head for a long time. My main criticism was that Ali felt too perfect and unnatural, but a stellar film well worth a watch. (15/20)
Vice has not received a brilliant reception critically, but I feel it has been hard done by. By the team behind The Big Short, the film follows Christian Bale's Dick Cheney. There is ambiguity around this story and it's tougher to follow than The Big Short, but it still has the humour of that film. It evokes emotions of hopelessness and rage. There are brilliant performances throughout. Watching the film you wonder whether american politics can get worse than this. (15/20)
Honourable Mentions:
Before looking at the top best picture nominated film, I wish to also pay some homage to the films which Bohemian Rhapsody robbed of a place on the list
If Beale Street Could Talk is a film by Barry Jenkins (Moonlight). It's an understated story of love and tragedy as a young black man called Fonny (Stephen James) is wrongly imprisoned for sexual assualt. His girlfriend Tish (Kiki Layne) is doing everything she can to get him out of jail before the birth of their child. This film is sensitive and powerful. It will leave you with a lump in your throat and is a beautiful film well worth your time. (16/20 MUST SEE)
Shoplifters was nominated for best foreign language film and probably won't win. That is a shame, but the film is well worth watching. A dysfunctional family find a little girl on the street called Yuri and decide to take her in. Her new big brother Shota teaches her to shoplift, something this family do to get by. Its a sweet story with brilliant natural characters. However, you feel there is something not right and in the second half of the film it starts to all unravel. (15/20)
Word of warning, this trailer spoils a lot of the film, so watch at your own digression
The final honourable mention goes to Widows. This film isn't very Oscar material, but the heist film has some great performances in it. Viola Davis is brilliant as Veronica, a widow who lost her husband while he was stealing and is now planning a heist to get money which she owes some gangsters. Along with the other widows who lost their husbands, they will look to gain financial stability and pay off the Manning gangsters, one of whom is chillingly played by Daniel Kaluuya. This film is everything that Oceans 8 wanted to be and is well worth your time. (14/20)
Disclaimer: The ones I haven't watched. There are some films I wish I had watched before this blog but didn't. These include "Can you Ever Forgive Me?" "Capernaum" and "Leave No Trace". I can't nominate them, but they all look good and hopefully end up on Netflix/Prime at some point.
The Best Oscar Nominated Picture is
Hardly suprising, the best Oscar nominated film is Roma by a fair distance. The good news is that this film is on Netflix so you can watch it any time. This black and white Mexican film follows servant Cleo and the family she serves throughout her pregnancy. This is during the 1970's when there is plenty of turmoil. The sounds and pictures are stunning. This is quite an arty film which is why I suggest Green Book as the most enjoyable film. The first hour feels lethargic but if you stick with it, the second hour is brilliant and you are desperate for things to go well for Cleo. A must watch, but only when you're in the mood to sit down for something heavy. A best picture worthy film for the Oscars for sure. (18/20 MUST WATCH)… BUT WAIT!
It won the best picture theoretical Oscar award, but did it win the best picture ASBO award… NO IT DIDN'T! So which film did?
The ASBO Award for Best Picture goes to…
Burning is a masterpiece. It wasn't nominated for any Oscars, not even best foreign language film. You probably haven't even heard of it. This Korean piece featuring Steven Yeun (Or the guy who got his eyeball knocked out in the Walking Dead) is truly brilliant. Lee Jong-Su (LJS) meets Haemi, an old friend from school. They go for a drink and Haemi tells LJS he called her ugly when in high school. LJS agrees to feed her cat (who he never sees) while she goes away to Africa. When she comes back, we meet the mysterious Ben (Played by Steven Yeun) who LJS describes as like the Great Gatsby. LJS is poor and has to look after a farm and Ben is rich. Their dynamic with their relationship with Haemi is fascinating. However, as the film progresses, LJS is more wary of Ben and the audience tries to work out whether this is jealousy or Ben is a sinister person. The premise may sound flimsy, however its difficult to talk about without spoiling. It looks at inequality and masculinity with great subtlety. I will write about it in more depth at some point, but for now, well done to the South Korean Team for taking home the 2019 Best Picture ASBO. Needless to say that Burning is an thrilling psychological drama and an 100% must watch film (although it may be difficult to find). (19/20 MUST WATCH)
Best Actor:
This category only seems to be heading one way in the Oscars. Rami Malek was the one shining light in Bohemian Rhapsody showing a sadness within a cold exterior and if he wins the Oscar it's well deserved. Viggo Mortesen was enjoyable in Green Book, but not as good as the others. However, for the ASBO award it's a two way tie between Bradley Cooper for his portrayal of Jackson in A Star is Born or Christian Bale for Vice.
Christian Bale, Vice

Bradley Cooper, A Star Is Born
Well, I'm going to have to give the Best acting ASBO to Christian Bale. While Cooper and Malek were both brilliant for their performances, the transformation throughout the film of Dick Cheney was incredible. Bale showed a whole range of brilliant acting as he became more corrupted and made the film a powerful spectacle.
Best Actress:
I haven't seen The Wife yet, so can't award this to Glenn Close. Viola Davis was brilliant in Widows as she is in most things. I didn't really feel that Olivia Coleman was the strongest lead in the favourite as the nutty Queen Anne. She was funny at times but didn't show the range my top two did. Yalitza Apiricio's portrayal of Cleo in Roma was brilliant as you fell in love with her shy character. Kiki Layne was phenomenal in Beale Street for many of the same reasons. She was timid but had such a confidence and she made Tish's and Fonny's relationship feel very real.
Kiki Layne, If Beale Street Could Talk

Yalitza Apiricio, Roma
As much as I want to give Beale Street a deserved reward, I have to give this one to Yalitza. The love she shows everyone around her and the suffering she feels come across as raw. I will not spoil the film, but her performance in the final thirty minutes make the film so chilling.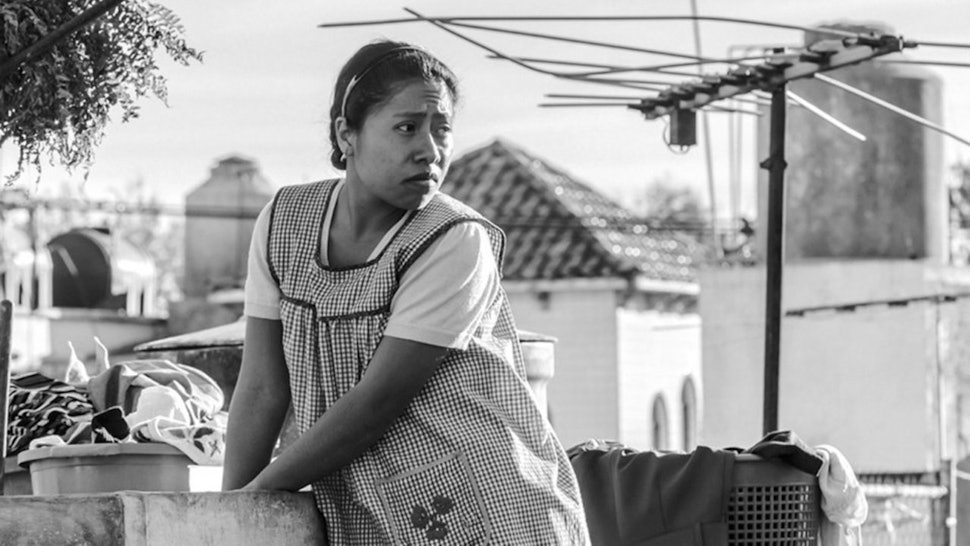 Best Supporting Actor
There are some pretty sceptical names on this list. Sam Grant in A Star is Born hardly feels worthy, neither does Sam Rockwell in Vice. If anything that should be Steve Carell on the list for the same film. Adam Driver was good in Blackkklansman. However, the two in contention are Steven Yeun in Burning as the chilling wealthy antagonist Ben and Mahershala Ali as Doctor Shirley in Green Book.
Mahershala Ali, Green Book

Steven Yeun, Burning
Mahershala Ali will probably win an Oscar and can put it next to his ASBO. He was phenomenal in Green Book, both with comedy and raw emotion. My main issue is that he didn't feel like a supporting actor, but a co-lead. However, he is eligible for this as the film is from Tony's perspective.
Best Supporting Actress
While I hope Regina King wins at the Oscars for Beale Street, she sadly doesn't win today despite her stellar performance. Emma Stone was great in the favourite, however her counterpart Rachel Weisz makes the final two alongside Amy Adams for Vice who was brilliant as Lynne Cheney.
Amy Adams, Vice

Rachel Weisz, The Favourite
The winner has to be Rachel Weisz. She was so funny and the way she played off as Queen Anne's cold lover Lady Sarah and her chemistry with Emma Stone. She showed coldness, compassion and biterness and was the best thing about the Favourite.
Well, that is all of the awards for this year. I hope you enjoyed them. Which films/actors/actresses do you feel deserve recognition? Let me know below.